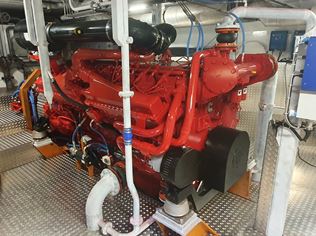 Situation
The re-engining of the MS Cymba involved not only replacing the old MAK with a new Cummins QSK50M1 but also choosing a new type of engine oil. With the Mobilgard HSD+ 15W-40, the goal was set to run longer drain intervals which could potentially realize economic and environmental savings.
Recommendation
The Mobilgard HSD+ 15W-40 was used in the Cummins QSK50M1 main engine. This is an extra high performance, multigrade engine oil specifically formulated for increased drain intervals in heavily loaded high speed marine diesel engines. The Mobilgard HSD+ 15W-40 offers:
- Enhanced oxidation stability
- Excellent soot and viscosity control
- Excellent anti-wear performance
- Compliance with API CK-4: suitable for Emission aftertreatment systems
Results and Benefits
Using Mobilgard HSD+ 15W-40 and monitoring via MobilServ Lubricant Analysis, the oil drain interval was extended from 500 to 1,000 hours. The oil analysis results were always reassuring and the trends showed an oil and engine in optimal condition. As a result, on a yearly basis approximately 1 500 EUR is saved on oil consumption and 560 liters of waste oil is reduced, which contributes positively to the ecological footprint of the MS Cymba.